Do you have a physical tack store?
Since all of our products are custom made and drop-shipped directly from our artists, who live in different US states, and our master leather makers, who live in Colombia, South America, we do not have a physical store. This also saves you money, because owning a physical tack store is quite expensive, and our savings are transferred on to you.
What payments can I use?
We use Paypal for all of our transactions. With Paypal you can use your credit or debit card, just like you would at any place of business without signing up for an Paypal account.
Where are my items shipped from?
Like Etsy, Ebay and sellers on Amazon, when you buy from one of our artists or tack makers, you are working with and supporting an independent business owner who is selling products through the SpanishHorseTack.com website. Spanishhorsetack.com handles the order and payment to the artist or tack maker, and then the artist or tack maker drop-ships your handmade product directly to you.
How long does it take for my custom, handmade item to be made and shipped?
Because each artist or tack maker featured on SpanishHorseTack.com is unique, their processing and shipping times will vary. Please see their specific information on these times directly on each product page.
If you have a question about an item or an order, you can use our

Contact Form

and we will pass along your questions to the artists. Please include a valid email address, your phone number, and the best time to reach you.
Can I return or exchange a custom, handmade product?
Because all of our products are custom made with your specifications, there are no returns. All tack is handmade to your horse's measurements, and every piece of art is also custom made for you. Since all items are constructed with many natural materials, there may be slight variations in style and color. All items are insured with tracking numbers, so if there is damage to your item(s), then an insurance claim will need to be filed with the package delivery service.
How do I measure my horse for a custom bridle?
For items like custom bridles, please make sure to follow the directions on our Bridle and Jaquima Size Chart, and send us your measurements by using our

Contact Form

. Include your email address, and a phone number, along with a time when we can contact you if we need to verify your order.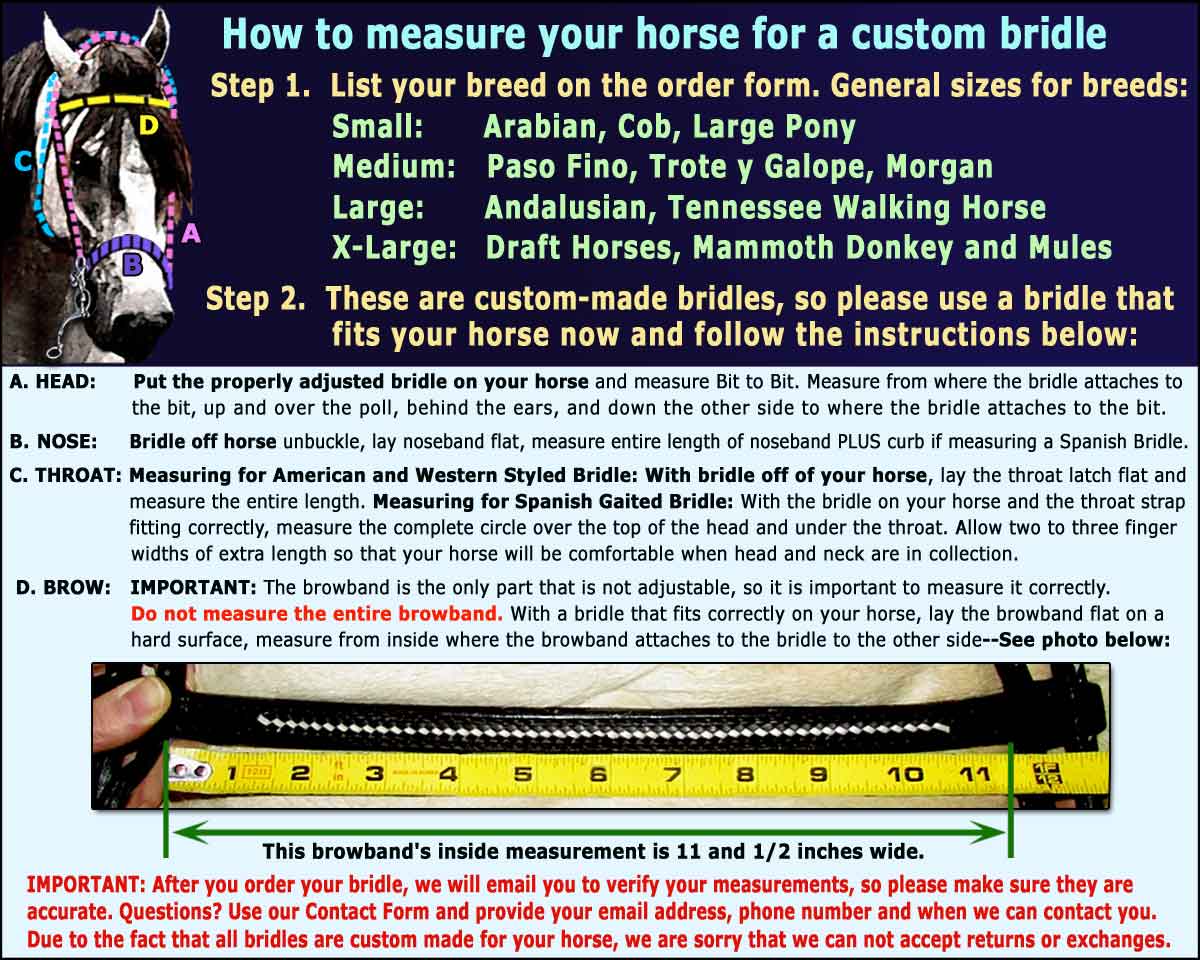 I have other questions.
Please use our

Contact Form

and include your Email address, phone number and the best time to call you. We will get back to you within one business day.