The Spanish Barb Horse
By Lauren Zanko
The Spanish Barb horse was founded from isolated populations of horses left over from the Spanish conquest. These horses are remnants from the "Golden Age" of Spain. Created in an age of war, African Barbs entered Spain and Spanish horses entered Africa and interbred to create a formidable equine capable of great collection, agility and the famous "airs above the ground." These horses were the seed stock for many breeds of horses in Spain, but also in the Americas. Unfortunately, though the breed's many descendants took off in great numbers, the original horses were all but lost due to crossbreeding, dispersal of breeding stock, and lack of interest in the smaller breed.
Through the preservation efforts of many, these horses were collected from private breeding ranches, Native American tribes and isolated feral herds. Where many breeds added outside blood to preserve genetic integrity, the Spanish Barb horse was bred back to its original type from a diversity of bloodlines. However, their numbers are still low, and they are listed under the umbrella of "Colonial Spanish Horse" as endangered.
Characteristics of the Spanish Barb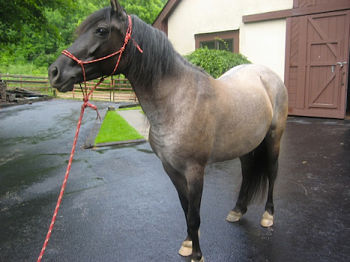 The Spanish Barb horse ranges from 13.3 to 15.0 hands, with a median of 14.1 hands high. They come in almost every color and pattern including "appaloosa" spotting.
The first impression is a horse of well proportioned, round, balanced and sound conformation. The head is flat to convex, with a small jaw and wide set eyes. Necks are deep and arched, backs are short, and chests are narrow. The croup is round and the tail is set relatively low, the legs are clean and hind legs sit like a spring underneath their powerful hips. Their unique body structure allows for ease of collection and high school movements.
Many individuals are gaited, and both lateral and ambling gaits are found in the breed. In trotting individuals, the gaits are smooth and elevated. They are a very hardy horse that rarely needs much (if any) grain or hoof care beyond a trim.
Spanish Barbs are known to bond strongly with their owner. They are intelligent and possess great courage that was prized by conquistadors and Native Americans alike. Their superior cow sense is what made them excellent bull fighting and buffalo running horses, and is still valued today.
The Spanish Barb is a versatile and athletic breed capable of exceeding in many disciplines. Spanish Barbs have competed successfully in agility, competitive trail, dressage, endurance, eventing, mounted shooting, show jumping, working cow, and soon working equitation.
The Spanish Barb Horse is a very rare breed
The breed is still very small (under 3000 living registered) and relatively unknown. Small preservationists are trying diligently to get these horses out in the public eye and prove them against more well-known, modern breeds. The Spanish Barb has survived the test of time and remains the same noble and gentle horses that were so valued throughout the centuries.
~ Lauren Zanko, owner of: Corazon de Sunka Wakan, a breeding farm of the Spanish Barb horse, author, copyright 2014. Permission is granted to share this article for educational purposes only as long as proper credit and acknowledgment is given to the author and source. No parts of this article may be reproduced for commercial purposes without the express written consent of the author.
Corazon de Sunka Wakan is a breeding and promotion effort of the Spanish Barb horse.
Their stallion, RE Coronado di Catalano, is featured in the video above.
Website: http://barbhorse.org