Our Bolero Horse Adoption Network works with several horse rescues.


We are using the power of our group's membership numbers to contribute to the rescues we work with.

If each member only gave $1.00 a month, that would

add up to A LOT for the rescues we support!

HELP RESCUES HELP HORSES!

DONATE NOW!!!
PREFERRED WAY TO DONATE:
Bolero Monthly Horse
Rescue Subscription Donation.
Click the drop-down menu
to select your monthly amount:

 

Bolero One Time




Horse Rescue Donation.


This amount will be divided for monthly distribution, so that the rescues we work with will all get a part of it: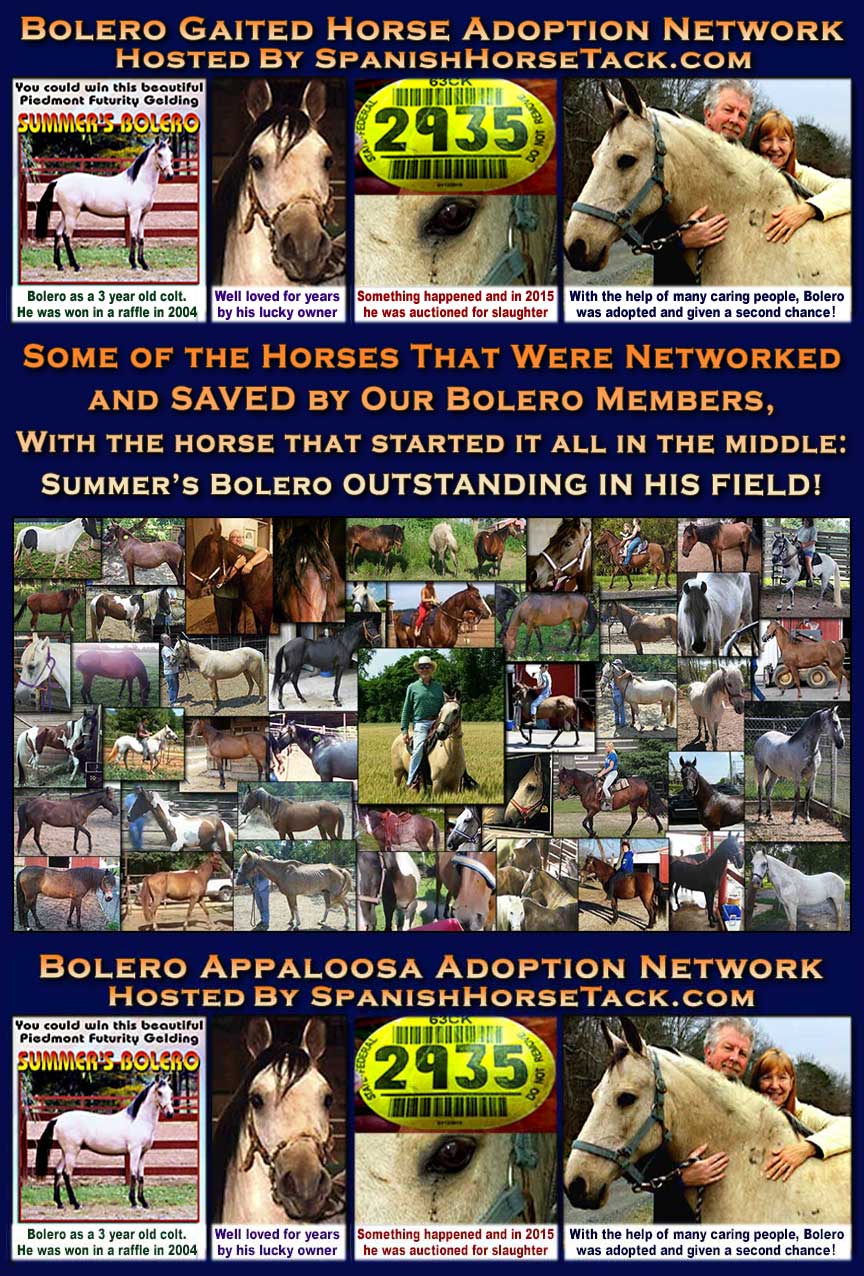 Bolero Horse Adoption Networks
The Bolero Horse Adoption Network is composed of free online Facebook groups, and so far we have two:
Our members network gaited and spotted horses who are in kill pens heading for slaughter and in horse rescues. The groups were named for Summer's Bolero, a registered Paso Fino that I personally knew as a 3 year old colt, who ended up in a kill lot in PA and was heading to slaughter for human consumption in Canada! Because of the efforts of Omega Horse Rescue, and over 200 Paso Fino lovers including myself, Bolero was saved from a horrifying death, and the Bolero Gaited Horse Adoption Network was born.
The purpose of our groups is to form a network of horse lovers, who are sharing information with their friends and other members of horse-related groups concerning horses who are in rescues, are in danger of being sold for slaughter, or horses who are already in kill lots
Following is the mission of our network:
1. To support and assist the folks who work tirelessly on the front lines at auctions and kill lots to save horses from horrible deaths by spreading the word of their gallant work, and the gaited horses that they share with us.
2. Spread information about why good, sane, quality horses end up in kill lots, and the horror they face when shipped to slaughter in Mexico. If you do not know about what goes on in Mexico, please search online for Horse Slaughter Mexico. It is the CRUELEST TREATMENT OF ANY ANIMAL THAT I HAVE EVER READ, AND IT IS CERTAINLY NOT HUMANE!
3. SAVE HORSES See our Files Area for articles and documents that can be used to contact current owners who are giving their horses away, or who are selling them below the per lb slaughter rate, approximately 75 cents to $1.00 a pound.
TOGETHER WE ARE SAVING LIVES!
Very Sincerely,
Sponsored by SpanishHorseTack.com
Custom, Handmade Horse Tack for All Breeds
Our Bolero Horse Adoption Network Namesake:
One lucky, purebred, registered slaughter-bound Paso Fino horse
Who was adopted. a
nd celebrated his 15th birthday with his new family!
Save
Save
Save
Save
Save
Save
Save
Save